MTHFR Polymorphism Testing – The Evidence Isn't There
Learning Objectives and CME/Disclosure Information

This activity is intended for healthcare providers delivering care to women and their families.
After completing this activity, the participant should be better able to:
1. Discuss which biologic reactions rely on MTHFR
2. Recall current evidence regarding the clinical utility of screening patients for polymorphic MTHFR variants
Estimated time to complete activity: 0.25 hours
Faculty:
Susan J. Gross, MD, FRCSC, FACOG, FACMG
President and CEO, The ObG Project
Disclosure of Conflicts of Interest
Postgraduate Institute for Medicine (PIM) requires instructors, planners, managers and other individuals who are in a position to control the content of this activity to disclose any real or apparent conflict of interest (COI) they may have as related to the content of this activity. All identified COI are thoroughly vetted and resolved according to PIM policy. PIM is committed to providing its learners with high quality CME activities and related materials that promote improvements or quality in healthcare and not a specific proprietary business interest of a commercial interest.
Faculty: Susan J. Gross, MD, receives consulting fees from Sema4, and has financial interest in The ObG Project, Inc.
Planners and Managers: The PIM planners and managers, Trace Hutchison, PharmD, Samantha Mattiucci, PharmD, CHCP, Judi Smelker-Mitchek, MBA, MSN, RN, and Jan Schultz, MSN, RN, CHCP have nothing to disclose.
Method of Participation and Request for Credit
Fees for participating and receiving CME credit for this activity are as posted on The ObG Project website. During the period from Dec 31 2017 through Dec 31 2020, participants must read the learning objectives and faculty disclosures and study the educational activity.
If you wish to receive acknowledgment for completing this activity, please complete the post-test and evaluation. Upon registering and successfully completing the post-test with a score of 100% and the activity evaluation, your certificate will be made available immediately.
For Pharmacists: Upon successfully completing the post-test with a score of 100% and the activity evaluation form, transcript information will be sent to the NABP CPE Monitor Service within 4 weeks.
Joint Accreditation Statement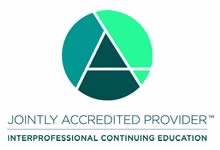 In support of improving patient care, this activity has been planned and implemented by the Postgraduate Institute for Medicine and The ObG Project. Postgraduate Institute for Medicine is jointly accredited by the Accreditation Council for Continuing Medical Education (ACCME), the Accreditation Council for Pharmacy Education (ACPE), and the American Nurses Credentialing Center (ANCC), to provide continuing education for the healthcare team.
Physician Continuing Medical Education
Postgraduate Institute for Medicine designates this enduring material for a maximum of 0.25 AMA PRA Category 1 Credit(s)™. Physicians should claim only the credit commensurate with the extent of their participation in the activity.
Continuing Nursing Education
The maximum number of hours awarded for this Continuing Nursing Education activity is 0.2 contact hours.
WHAT IS IT?
5,10-methylenetetrahydrofolate reductase (MTHFR) enzyme catalyzes 5,10-methylenetetrahydrofolate to 5-methyltetrahydrofolate and is therefore critical to reactions and processes involving folate

MTHFR converts the amino acid homocysteine to methionine
MTHFR and consequent folate status impacts pathways involving

DNA

methylation and gene regulation

Two polymorphic variants are known to decrease enzyme activity

677C>T ("thermolabile" variant – enzyme less active at higher temperatures)

Commonly, a C is at position 677 that codes for an alanine
T at position 677 leads to a valine substitution

1298A>C is also common but does not cause increased homocysteine levels in heterozygous or homozygous individuals
Combined heterozygosity of 1298A>C and 677C>T results in an outcome like 677C>T homozygous individuals

677C>T is common and found throughout the world

10 – 15% of North American Caucasians are homozygous
> 25% of Hispanics are homozygous with the highest allele frequencies
6% in individuals of African descent are homozygous
20 to 40% of Caucasians or Hispanics in the US are heterozygotes (one allele)

Reduced MTHFR activity, especially when folate levels are low, is a risk factor for hyperhomocysteinemia

Hyperhomocysteinemia has been weakly associated with venous thrombosis and coronary artery disease
Other factors can elevate homocysteine levels (e.g. deficiencies of folate, vitamins B6 and B12)
Hyperhomocysteinemia may be mild to moderate in individuals who are homozygotes for MTHFR polymorphisms with limited clinical significance
KEY POINTS:
Is MTHFR genotype status related to disease?
Until recently, it was thought that MTHFR deficiency, by causing elevated homocysteine levels, led to an increased risk of venous thrombosis, coronary heart disease, recurrent pregnancy loss and adverse pregnancy outcomes
More recent analysis has found no evidence for consistent associations or causation
Furthermore, there is no association with MTHFR variants and mortality
Homocysteinemia should not be confused with homocystinuria, a rare genetic disease usually seen in childhood, which presents with extremely high homocysteine levels and is associated with severe, early onset vascular disease and venous thromboembolism
There is no evidence that it is dangerous to vaccinate children with MTHFR mutations nor is testing of children for this reason indicated
Is there clinical utility to clinical testing for MTHFR variants?
MTHFR is only one factor in hyperhomocysteinemia
Fortification of cereals has led to higher folate levels and therefore reduced homocysteine levels

Due to gene-nutrient interaction, previous associations between MTHFR variants and disease may no longer be relevant
For example, the association between 677C>T and venous thromboembolism is no longer seen in the US

Lowering homocysteine levels through vitamin supplementation does not reduce the risk of blood clots or cardiovascular disease
RECOMMENDATIONS:
MTHFR polymorphism genotyping should not be ordered as part of the clinical evaluation for thrombophilia, recurrent pregnancy loss, or for at-risk family members.
ACOG

Testing for MTHFR mutations in not recommended for recurrent pregnancy loss, as only antiphospholipid syndrome has shown consistent associations
MTHFR variants in isolation do not confer additional risk for thrombosis in either pregnant or nonpregnant women and therefore testing for MTHFR variants or fasting homocysteine levels in not recommended for the work up of venous thromboembolism
There is lack of association between heterozygosity or

homozygosity

for 677C>T and any negative pregnancy outcomes

ASRM

and

NSGC

Testing for MTHFR variants for recurrent pregnancy loss is not recommended

ACMG

MTHFR polymorphism genotyping should not be ordered as part of the clinical evaluation for thrombophilia or recurrent pregnancy loss or for at-risk family members
Do not adjust preventative folic acid supplementation dose for

NTDs

based on MTHFR results

Thrombosis Canada

Due to lack of clinical utility and available data, treating hyperhomocysteinemia in patients with cardiovascular disease or VTE is not recommended, nor is vitamin supplementation for primary prevention of cardiovascular disease recommended

Joint Statement on Expanded Carrier Screening (

ACOG

/

ACMG

/

NSGC

/

PQF

/

SMFM

)

It may be preferable not to include variants on expanded prenatal genetic carrier panels that have high allele frequencies and low

penetrance

of a phenotype such as MTHFR
Learn More – Primary Sources:
Prevalence of methylenetetrahydrofolate reductase 677T and 1298C alleles and folate status: a comparative study in Mexican, West African, and European populations
MTHFR related hyperhomocysteinemia
ACOG Committee Opinion 197: Inherited Thrombophilias in Pregnancy
ASRM: Evaluation and treatment of recurrent pregnancy loss: a committee opinion
ACMG Practice Guideline: lack of evidence for MTHFR polymorphism testing
MTHFR: Addressing Genetic Counseling Dilemmas Using Evidence-Based Literature
Meta-analysis of MTHFR 677C->T polymorphism and coronary heart disease: does totality of evidence support causal role for homocysteine and preventive potential of folate?
Expanded carrier screening in reproductive medicine-points to consider: a joint statement of the American College of Medical Genetics and Genomics, American College of Obstetricians and Gynecologists, National Society of Genetic Counselors, Perinatal Quality Foundation, and Society for Maternal-Fetal Medicine
AAP: Immunizations and Common Parental Concerns
Take a post-test and get CME credits
Want to hear about the latest clinical summaries?
Related ObG Topics: