Coronavirus and Pregnancy: Vertical Transmission Data, Maternal Risks and Management
Learning Objectives and CME/Disclosure Information

This activity is intended for healthcare providers delivering care to women and their families.
After completing this activity, the participant should be better able to:
1. Discuss the evidence related to vertical transmission of 2019-nCoV during pregnancy
2. Describe maternal and fetal risks that were reported during previous outbreaks of atypical viral pneumonias

Estimated time to complete activity: 0.25 hours
Faculty:
Susan J. Gross, MD, FRCSC, FACOG, FACMG
President and CEO, The ObG Project
Disclosure of Conflicts of Interest
Postgraduate Institute for Medicine (PIM) requires instructors, planners, managers and other individuals who are in a position to control the content of this activity to disclose any real or apparent conflict of interest (COI) they may have as related to the content of this activity. All identified COI are thoroughly vetted and resolved according to PIM policy. PIM is committed to providing its learners with high quality CME activities and related materials that promote improvements or quality in healthcare and not a specific proprietary business interest of a commercial interest.
Faculty: Susan J. Gross, MD, receives consulting fees from Sema4, and has financial interest in The ObG Project, Inc.
Planners and Managers: The PIM planners and managers, Trace Hutchison, PharmD, Samantha Mattiucci, PharmD, CHCP, Judi Smelker-Mitchek, MBA, MSN, RN, and Jan Schultz, MSN, RN, CHCP have nothing to disclose.
Method of Participation and Request for Credit
Fees for participating and receiving CME credit for this activity are as posted on The ObG Project website. During the period from 02-28-2020 through 02-28-2021, participants must read the learning objectives and faculty disclosures and study the educational activity.
If you wish to receive acknowledgment for completing this activity, please complete the post-test and evaluation. Upon registering and successfully completing the post-test with a score of 100% and the activity evaluation, your certificate will be made available immediately.
For Pharmacists: Upon successfully completing the post-test with a score of 100% and the activity evaluation form, transcript information will be sent to the NABP CPE Monitor Service within 4 weeks.
Joint Accreditation Statement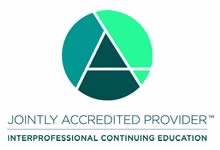 In support of improving patient care, this activity has been planned and implemented by the Postgraduate Institute for Medicine and The ObG Project. Postgraduate Institute for Medicine is jointly accredited by the Accreditation Council for Continuing Medical Education (ACCME), the Accreditation Council for Pharmacy Education (ACPE), and the American Nurses Credentialing Center (ANCC), to provide continuing education for the healthcare team.
Physician Continuing Medical Education
Postgraduate Institute for Medicine designates this enduring material for a maximum of 0.25 AMA PRA Category 1 Credit(s)™. Physicians should claim only the credit commensurate with the extent of their participation in the activity.
Continuing Nursing Education
The maximum number of hours awarded for this Continuing Nursing Education activity is 0.2 contact hours.
Read Disclaimer & Fine Print
NOTE: Information and guidelines may change rapidly. Check in with listed references in 'Learn More – Primary Sources' to best keep up to date
SUMMARY:
The recent outbreak of the novel coronavirus, now called SARS-CoV-2, and spread of COVID-19 infection is being closely monitored worldwide. Thus far, there is limited knowledge regarding the risk of vertical transmission and impact on pregnancy.
Risk for Vertical Transmission
Based on current, limited information, there does not appear to be a strong risk for vertical transmission

In one study (9 pregnant women), virus was not found in amniotic fluid nor in infants (see 'Related ObG Topics below)
However, IgM has been detected in infants, which would indicate a newborn response to in utero infection (IgM does not pass through the placenta) | Significance and actual risk remain to be determined (see 'Learn More – Primary Sources below)

Presentation and clinical findings for COVID-19 pneumonia do not different in pregnant women vs the general population
Typical presentation with COVID-19 includes

Common clinical features: Fever | Fatigue | Dry cough

Lymphopenia (<1.0 × 10⁹ cells per L)

Reports of

Liver involvement (elevated transaminases, coagulopathies) and decreased platelets
Cardiac injury biomarkers

CDC

and publications on this topic continue to stress the limited amount of data currently available on this topic
CDC: Are Pregnant Women an 'At Risk' Group?
CDC

currently considers the following individuals to be at higher risk

≥ 65 years
Nursing home or long-term care facility resident
Respiratory: Chronic lung disease or moderate to severe asthma
Cardiac: Heart disease with complications
Immunocompromised: Including cancer treatment
Severe obesity: BMI ≥40
Certain underlying medical conditions (particularly not well controlled): e.g., Diabetes | Renal failure | Liver disease
CDC

states that pregnant women "should be monitored" based on experience from previous outbreaks but as of yet, data has not demonstrated increased risk
We do not have information from published scientific reports about susceptibility of pregnant women to COVID-19

Pregnant women experience immunologic and physiologic changes which might make them more susceptible to viral respiratory infections, including COVID-19

Pregnant women also might be at risk for severe illness, morbidity, or mortality compared to the general population as observed in cases of other related coronavirus infections [including severe acute respiratory syndrome coronavirus (SARS-CoV) and Middle East respiratory syndrome coronavirus (MERS-CoV)] and other viral respiratory infections, such as influenza, during pregnancy

Pregnant women should engage in usual preventive actions to avoid infection like washing hands often and avoiding people who are sick.
CDC: Pregnant Healthcare Providers
Information on COVID-19 in pregnancy is very limited; facilities may want to consider limiting exposure of pregnant HCP to patients with confirmed or suspected COVID-19, especially during higher risk procedures (e.g., aerosol-generating procedures) if feasible based on staffing availability.
KEY POINTS:
CDC: Obstetric L&D Recommendations
The following is a summary with key highlights – the full CDC recommendations can be found at the Obstetric Healthcare Settings page (find link below in 'Learn More – Primary Sources' as well as link to ACOG Practice Advisory)
Vertical Transmission and Newborn Risk – Consideration of Mother-Infant Separation
Risk currently unknown | Transmission after birth via contact with infectious respiratory secretions is a concern

"Consider temporarily separating (e.g., separate rooms) the mother who has confirmed COVID-19 or is a PUI from her baby until the mother's transmission-based precautions are discontinued…decision should be made on a case-by-case basis in consultation with clinicians, infection prevention and control specialists, and public health officials"
A separate isolation room should be available for the infant, as they are considered a PUI in the setting of an ill mother who either has confirmed or suspected COVID-19
Consider limiting visitors except for healthy parent or caregiver | Visitors should be instructed to wear appropriate PPE, including gown, gloves, face mask, and eye protection | Healthy family or staff members providing care (such as bathing) and feeding should also use PPE
Considerations to discontinue temporary separation are the same as those to discontinue transmission-based precautions for hospitalized patients with COVID-19
If "Rooming In"
If due to mother's wishes or facility limitations, consider using engineering controls

Physical barriers (e.g., a curtain between the mother and newborn)
Keeping the newborn ≥6 feet away from the ill mother
If no other healthy adult is present in the room: Mother (with confirmed COVID-19 or PUI) should use a facemask and practice hand hygiene before each feeding or other close contact with her newborn | Keep facemask in place during contact
Breastfeeding
During temporary separation

Encourage breast milk expression to establish and maintain milk supply | Use hand hygiene prior to milk expression
Healthy caregiver should feed the baby with the expressed breast milk
If rooming-in and mother wishes to feed at the breast, a facemask and hand hygiene should be used before each feeding
Hospital Discharge and Discontinuation of in-home isolation and Transmission-Based Precautions for hospitalized patients
Follow recommendations described in the Interim Guidance for Discontinuation of Transmission-Based Precautions and Disposition of Hospitalized Patients with COVID-19 (see 'Learn More – Primary Sources')
Discharge planning: Should be made made on a case-by-case basis in consultation with clinicians, infection prevention and control specialists, and public health officials
Consideration should be given to the following

Disease severity
Illness signs and symptoms
Results of laboratory testing for COVID-19 in respiratory specimens
Note: CDC defines hand hygiene as follows
Hand hygiene includes use of alcohol-based hand sanitizer that contains 60% to 95% alcohol before and after all patient contact, contact with potentially infectious material, and before putting on and upon removal of PPE, including gloves. Hand hygiene can also be performed by washing with soap and water for at least 20 seconds. If hands are visibly soiled, use soap and water before returning to alcohol-based hand sanitizer.
ACOG Practice Advisory
ACOG

has released a practice advisory, providing guidance and valuable links
Pregnant women, based on prior experience with significant viral infection, should be considered an 'at-risk' population

ACOG

and

SMFM

provide an algorithm to aid in the assessment and management of pregnant women with suspected or confirmed COVID-19
Tap Image to Open Algorithm
SMFM Guidance
SMFM

has released a comprehensive document addressing obstetrical management (see 'Learn More – Primary Sources' below)

Mode and timing of delivery should be based on obstetrical considerations

Fetal surveillance and management
In the setting of a mild infection, management similar to that for a patient recovering from influenza is reasonable. Given how little is known about this infection, a detailed midtrimester anatomy ultrasound examination may be considered following first-trimester maternal infection.

For those experiencing illness later in pregnancy, it is reasonable to consider sonographic assessment of fetal growth in the third trimester
ASRM Guidelines – Fertility Health
Individuals with symptoms should "strive to avoid pregnancy"

Includes those consider use of oocyte donors, sperm donors, or gestational carriers

Recommendations also include the following
Patients who were planning to proceed with oocyte retrieval should be counseled to proceed with cryopreservation of embryos with plans for deferred transfer

Suspend initiation of new treatment cycles, including ovulation induction, intrauterine inseminations (IUIs), in vitro fertilization (IVF) including retrievals and frozen embryo transfers, as well as non-urgent gamete cryopreservation

Continue to care for patients who are currently "in-cycle" or who require urgent stimulation and cryopreservation
RCOG Guidelines
Guidance for healthcare professionals on Coronavirus (COVID-19) infection in pregnancy has been published by the

RCOG

, Royal College of Midwives, Royal College of Paediatrics and Child Health, Public Health England and Health Protection Scotland
The document provides a comprehensive review of COVID-19, including epidemiology

Readily spreading, through respiratory, fomite or fecal route (the latter may help explain rapid spread)
There is currently no evidence concerning transmission through genital fluids

Effect on mothers

Expect most to have mild or moderate symptoms
While there is a case report of a pregnant woman with preterm delivery requiring mechanical ventilation (see 'Learn More – Primary Sources' below), risk of severe disease (pneumonia and hypoxia) are highest for the elderly, the immunosuppressed and those with long-term conditions such as diabetes, cancer and chronic lung disease

Fetal effects

No evidence to suggest increased risk for miscarriage or early pregnancy loss

Pregnant healthcare workers
Updated guidance emphasises that pregnant women of any gestation should be offered the choice of whether to work in direct patient-facing roles during the coronavirus pandemic

Women who are less than 28 weeks pregnant should practise social distancing but can choose to continue working in a patient-facing role, provided the necessary precautions are taken

Women who are more than 28 weeks pregnant, or have underlying health conditions, should avoid direct patient contact and it is recommended that they stay at home
Note: Find additional international professional guidelines below in 'Learn More – Primary Sources'
Learn More – Primary Sources:
What are the risks of COVID-19 infection in pregnant women (Lancet)
Clinical characteristics and intrauterine vertical transmission potential of COVID-19 infection in nine pregnant women: a retrospective review of medical records
Potential Maternal and Infant Outcomes from (Wuhan) Coronavirus 2019-nCoV Infecting Pregnant Women: Lessons from SARS, MERS, and Other Human Coronavirus Infection
CDC: Information for Healthcare Providers: COVID-19 and Pregnant Women
CDC: People who are at higher risk for severe illness
CDC: Interim Considerations for Infection Prevention and Control of Coronavirus Disease 2019 (COVID-19) in Inpatient Obstetric Healthcare Settings
CDC: Interim Guidance for Discontinuation of Transmission-Based Precautions and Disposition of Hospitalized Patients with COVID-19
ACOG: Practice Advisory: Novel Coronavirus 2019 (COVID-19)
SMFM: Coronavirus (COVID-19) Resource Page
ASRM: COVID-19 – Suggestions On Managing Patients Who Are Undergoing Infertility Therapy Or Desiring Pregnancy
RCOG: Coronavirus (COVID-19) infection and pregnancy
RCOG: Updated advice for pregnant healthcare workers and employers during the coronavirus outbreak
RANZCOG: Coronavirus (COVID-19) Advice and Information
Sociedad Chilena de Endocrinología Ginecológica (SCHEG): COVID-19 y Embarzo
Collège National des Gynécologues et Obstétriciens Français (CNGOF): Prise En Charge Aux Urgences Maternite D'une Patiente Enceinte Suspectee Ou Infectee Par Le Coronavirus (Covid-19)
Federação Brasileira das Associações de Ginecologia e Obstetrícia (FEBRASCO): Infecção pelo Coronavírus SARS-CoV-2 em obstetrícia. Enfrentando o desconhecido
ISUOG Interim Guidance on 2019 novel coronavirus infection during pregnancy and puerperium: information for healthcare professionals
A case of 2019 Novel Coronavirus in a pregnant woman with preterm delivery
Possible Vertical Transmission of SARS-CoV-2 From an Infected Mother to Her Newborn
Antibodies in Infants Born to Mothers With COVID-19 Pneumonia
Get Guideline Notifications direct to your phone with ObGFirst®
Try it Free »



Related ObG Topics: